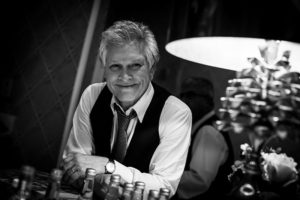 Andrew Stevens has produced and financed over 175 motion pictures from micro-budgeted independents to mega-budgeted studio theatrical releases, from the hit comedy "The Whole Nine Yards", to the cult classic, "The Boondock Saints" to award-winning Cannes and Sundance Festival Feature Films.
Named "One of the most prolific producers in Hollywood" by the Hollywood Reporter, Stevens' films have generated over $1 Billion in world-wide revenues. They have spanned numerous genres and have featured such stars as Robert DeNiro, Kevin Costner, Jennifer Lopez, Bruce Willis, Kevin Spacey, Wesley Snipes, Gene Hackman, Kurt Russell, Jack Nicholson, Sylvester Stallone, Matthew Perry, Samuel L. Jackson, James Franco, Cameron Diaz, John Travolta, Michael Douglas, Ryan Reynolds, Antonio Banderas, Steven Seagal, Heather Graham, Christian Slater, Forest Whitaker, Ed Harris, Anne Heche, Kiefer Sutherland, Glenn Close, Holly Hunter, Danny DeVito and Albert Brooks to name a few.
Unique in the motion picture industry, Stevens has mastered almost every capacity in the entertainment business, from creative filmmaker, writer, director and producer, to corporate executive, leader in trade and union negotiations and collective bargaining, the creative development and physical production of motion pictures, as well as sales, distribution, finance, publicity and marketing. He was a former award-winning actor and continues to produce and sell movies in addition to being an author, educator, motivational speaker and industry consultant.
In recent years, Stevens Entertainment Group and its subsidiary Andrew Stevens Entertainment has developed, produced and arranged the financing for more than 30 Motion Pictures, including world premiere television movies, family films, and action films, featuring such stars as Steven Seagal, Wesley Snipes, Jean Claude Van Damme and Dolph Lundgren.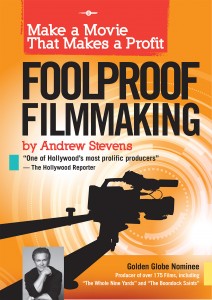 Author/Educator
Stevens' book, Foolproof Filmmaking: How to Make a Movie and Make a Profit, was published in May of 2014, and is available in select bookstores, as well as on Amazon and in e-books. "Andrew Stevens not only streamlines and explains in every detail of the filmmaking process, but gives you a foolproof formula on how to get it done. His book and film school series are the best money a filmmaker can spend and will pay for themselves many times over", award-winning director/producer/actor, Robert Townsend.
His 8-disc educational series, "Foolproof Film School", in which Stevens teaches his unique paradigm based on his empirical knowledge and success, has been dubbed, "The P90X for independent filmmakers", and is available online via www.foolprooffilmmaking.com.
Producer
From 1997 through 2002 Stevens co-founded and served as President and Chief Operating Officer of Franchise Pictures, an independent film production and distribution company with a domestic theatrical output deal with Warner Bros. During his tenure at Franchise, Stevens produced or executive produced and provided the financing or co-financing for more than 60 feature films including the enormously successful "The Whole Nine Yards" (2000), and its sequel "The Whole Ten Yards" (2004), both starring Bruce Willis and Matthew Perry, "The In-Laws" (2003), starring Michael Douglas and Albert Brooks, "Angel Eyes" (2001) starring Jennifer Lopez and James Caviezel, "The Art Of War" (2000) starring Wesley Snipes, "City By The Sea" (2002), starring Robert De Niro, "Driven" (2001) and "Get Carter" (2000), both starring Sylvester Stallone, "Ballistic: Ecks vs. Sever" (2002), starring Lucy Liu and Antonio Banderas, "Heist" (2001), starring Gene Hackman and Danny DeVito, "The Pledge" (2001), starring Jack Nicholson, "3000 Miles to Graceland" (2001), starring Kevin Costner and Kurt Russell, and "Half Past Dead" (2002) starring Steven Seagal.
Stevens was also responsible for creating Franchise Classics, a division which produced and distributed many films which appeared in such major film festivals as Cannes, Sundance Film Festival and Toronto Film Festival including "The Big Kahuna" (1999), starring Kevin Spacey, "Things you Can Tell Just by Looking at Her" (2000), starring Cameron Diaz and Glenn Close, "Green Dragon" (2001), starring Forrest Whitaker and Patrick Swayze and "The Caveman's Valentine" (2001), starring Samuel L. Jackson.
Prior to the creation of Franchise Pictures, Stevens produced financed and/or distributed more than 90 motion pictures through is various other companies, Phoenician Entertainment, Royal Oaks Entertainment and Sunset Films International.

Industry Leader
For a decade, Stevens served on the board of directors of the International Film and Television Alliance, (the former American Film Marketing Association) and also served as Chairman of the Independent Producers Association (IPA), which is, among other things, active in collective bargaining for independent producers and film companies. Stevens has been involved in many guild negotiations with both the Screen Actors Guild (SAG) and the Directors Guild of America (DGA) on behalf of the constituency of independent producers and was a key architect of the current DGA/IPA multi-tiered low-budget agreement. Stevens has been a voting member of the Academy of Motion Picture Arts and Sciences since 1978.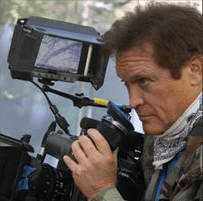 Director
Stevens has directed twelve feature films, including three HBO premiere movies and one SHOWTIME premiere movie, as well as and multiple episodic television shows including, "Walker Texas Ranger", "General Hospital", "Swamp Thing" and "Silk Stalkings".
Writer
An accomplished writer, Stevens has written screenplays for eight motion pictures, as well as multiple stories used as the basis for screenplays. In addition to Foolproof Filmmaking: How to Make a Movie and Make a Profit, he has written the Children's book, Family is Forever, the booklet, 7 Keys to Determining the Right Film to Make, and the forewords for the books, Bronson's Loose, and A Rebel's Revelations: The Diaries of Sergeant Edmund Trent Eggleston, Company G, 1st Mississippi Light Artillery Regiment.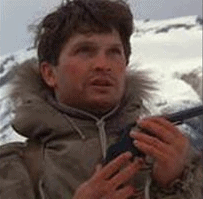 Actor
From 1973 - 1993, Stevens was a successful award-winning actor, including a Golden Globe nomination for his performance in the film "The Boys in Company C" and the Star of Tomorrow Award from the National Association of Theatre Owners (NATO) for his performance in "The Seduction". Stevens also was awarded the L.A. Drama Circle Critics Award for his performance in the U.S. premiere of the stage play, "Bouncers". He has starred in over 80 feature films, including Brian De Palma's critically acclaimed "The Fury" as well as numerous television movies, mini-series and television series such as "Dallas".
Executive
As one of Hollywood's most prolific CEO's, Stevens is an expert in the art of selling and closing the deal. He has generated hundreds of millions of dollars in sales and has turned struggling companies and sales divisions into revenue generating powerhouses. Stevens built one of the most profitable and lucrative independent film companies in Hollywood, and is an inspiration to entrepreneurs, sales teams, business executives, and is highly sought after for advice and consultation.